I spent a semester in London on a study abroad program when I was in college. One of the things I loved most about Englad was their pubs. It is so different than American bars, I wish I could put into words. Its just something you have to experience. I spent many afternoons and evenings at the local pubs throwing back a few pints with good friends. So I was pretty excited to brew this version of a standard English Bitter.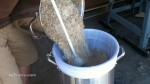 I'm calling this brew my Rogue Demon Hunter.  This is an reference to a character in the Angel series (a spinoff of Buffy The Vampire Slayer).  In the show, Wesley Wyndam-Pryce is a proper English gentleman who worked for the Watcher's Council (they train the current slayer and monitor demon activity).  Unfortunately, he got fired, so he went "rogue."  Armed with a cross bow and a Harley, he scoured the streets of Los Angeles killing demons as a self-proclaimed "Rogue Demon Hunter."  But his chosen image and title contradicts his mild mannered and awkward persona.  So while this beer has a bad-ass image, this mild mannered English ale is more suited for a civilized gentleman.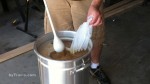 The recipe is based on one from Northern Brewer. I adjusted the hops to account for the higher alpha acid. My local brewstore didn't have London Ale Yeast, so I swapped it with Danstar Noddingham yeast instead. I used a Brew In A Bag (BIAB) method for my mash. Everything went according to plan and I'm really happy with the results. While I was brewing this batch, I turned on the video camera to capture my process of brewing this beer. Check it out if you're interested in this brew, or my brewing process.

Rogue Demon Hunter
Style
: 8-A Standard/Ordinary Bitter
Type:
Brew In A Bag (BIAB)
Batch:
#9
Size:
5.0 gal
Calories:
127.9 kcal per 12.0 fl oz
Original Gravity: 1.039 (1.032 – 1.040)
|=====================#==========|
Terminal Gravity: 1.010 (1.007 – 1.011)
|==================#=============|
Color: 11.2 (4.0 – 14.0)
|===================#============|
Alcohol: 3.79% (3.2% – 3.8%)
|=======================#========|
Bitterness: 32.9 (25.0 – 35.0)
|====================#===========|
Ingredients:
6 lb Maris Otter

.5 lb Crystal Malt 60°L

.5 lb Cara-Pils® Malt

.25 lb Belgian Biscuit

.75 oz East Kent Goldings (6.7%) –

added during boil, boiled 60 min

.5 oz East Kent Goldings (6.7%) –

added during boil, boiled 30 min

.5 oz East Kent Goldings (6.7%) –

added during boil, boiled 10 min

1 ea Danstar Nottingham
Schedule:
Mash In (BIAB)

–

Liquor: 4.0 gal; Strike: 159.13 °F; Target: 152 °F

Rest

–

Rest: 60 min; Final: 152.0 °F
Notes:
Brew In A Bag (BIAB)
Based on a recipe from Northern Brewer
Target Mash at 152° F – Actual 151° F
OG spot on at 1.039
Schedule way off.  38 days of fermenting.  About 3 weeks primary, 2.5 weeks in second
Bottled on: 9/6/2011
FG at 1.014 – 3.2% AVB
I got 48 bottles exactly.  I've never got an even number of bottles!
Join Our Newsletter
Get awesome stuff just like this delivered straight to your inbox!  Join our newsletter for updates on new videos and projects.
Thanks for being awesome!