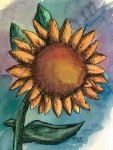 After I graduated highschool, I went to college to earn a degree in Fine Art.  I was mostly interested in painting.  While I did well with my art classes, I had trouble focusing on the other classes and I ended up quiting school.  I eventually went back and got a degree in an unrelated field so I can pay the bills.  Being a creative person, I always needed a creative outlet.  I let my painting slip to the sidelines and I focused more on crafting because its easy to pickup and put down in a moment's time.
After being out of the art scene for 15 years-ish, I had this strong desire to get back into painting.  I looked into several different mediums; acrylic, oil, and watercolor.  I like oil paintings, but they require studio space, lots of prep time, and paintings take up to 6 months to dry.  Since I don't have the luxury of huge blocks of time, this wouldn't be a good option.  Acrylic is similar in the fact it does take space and the prep/cleanup will really cut into my painting time.  I decided to learn watercolor.  It takes relatively little space (I paint at the kitchen table), the prep is merely filling a glass of water, and the cleanup is quick as rinsing the brushes.
Watercolor is a tricky medium.  As a beginner, I found it rather chaotic.  The trick is to learn  how the water, the color, and the paper interact.  Then based on  your knowledge of these interactions, you can create some really nice effects. But how do you learn?
There's a few ways to learn watercolor.  Number 1 is taking a class.  That way you can get feedback and answers immediately.  Unfortunately, I work for a living.  And for some strange reason, the only watercolor classes taught in my neck of the woods is at 1pm on Teusdays.  I guess their target audience is retirees and stay-at-home moms?  Anyway, scratch that off my list.
You can learn from books.  I've tried it, but my learning was severely limited.  I think it would be fine for folks who have experience with watercolor, but I need to see someone demonstrating the techniques.  I'd imagine that most people who gravitate toward painting are also visual learners.  So, scratch that off my list, too.
So, I turned to my favorite learning spot, YouTube.  Some good videos, a lot of bad videos.  The best I could find, they'd only show a technique here or there, or maybe a watercolor demonstration.  But the basics/foundations are hard to come by.  So that didn't work for me.  Now what?
I ended up finding a DVD series from Bob Davis called Watercolour Secrets.  It's an 8 disk set that really lays out the basics.  The price was a little steep at $95, but I took the plunge.  I'm glad I did.  It really gives you a great foundation on how watercolor works.  He talks about materials, tools, and walks you through various painting techniques.  The DVD's are set up like a complete watercolor class.  So each lesson builds on the previous.  In hindsight, $95 isn't that much for top quality info.  Besides, taking  a few classes will easily cost you that much.  But this way, I can revisit lessons time and time again, learning something new each time.  Can't do that with a one-time class.
I watched each video in the series straight through before I picked up a brush.  After I'm done, I'd go back to the first video and rewatch it.  Then I'd take out my brush and practice some of the techniques.  Most of my time was spent just practicing washes, clouds, trees and rocks.  Every once in awhile I'd tackle a scene with limited success.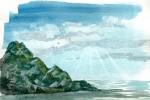 I eventually dug up some photo references and decided to try my hand at a real painting.  The first one I did was a sunflower.  This is the first painting I wasn't embarresed to show.  It didn't turn out awesome, but I still was happy with my results.  The painting itself didn't stand on its own, so I added some pen and ink to complete the picture.  I'm going to frame it until I can replace it with a better painting.
The second painting was more of an exercise.  The painting itself isn't great, but I tried a new technique on the rocks that I really liked.  I can just imagine a bunch of migratory birds finding home on these rocks.  I still struggle with the sky, but I'm getting better.
I'll continue practicing and continue painting.  I'll post some of my successes here on my blog.  It's a frustrating journey, but really rewarding when things come together to produce something you want to hang on  your wall.
Join Our Newsletter
Get awesome stuff just like this delivered straight to your inbox!  Join our newsletter for updates on new videos and projects.
Thanks for being awesome!