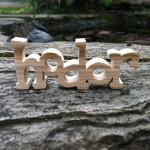 Here's a simple shelf sitter featuring the name of my favorite character from HBO's A Game Of Thrones.  This was designed in Inkscape and cut on my scroll saw using a #3 scroll reverse blade.  Made from 3/4″ poplar I got at the home center and clear coated with a clear acrylic spray.  You can find the pattern here.
Join Our Newsletter
Get awesome stuff just like this delivered straight to your inbox!  Join our newsletter for updates on new videos and projects.
Thanks for being awesome!