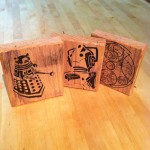 My wife and I are big Doctor Who fans.  I wanted to do an image transfer of some icons from the series to a piece of wood.  I thought these would make great shelf sitters to add to my geeky decor.  I chose images that are known to Whovians, but doesn't scream Doctor Who.  So, I chose the two big-bads in the series, Cybermen and Daleks.  The 3rd image is a Gallifreyan calendar, I believe (If I'm wrong, let me know in the comments).
I had a piece of old weathered oak laying around.  The rough texture had a lot of character.  I sanded down the board to remove most of the dark color.  I cut it down to size with my miter saw.  The edges, I used my Dremel to roughly knock off the edges.  Since I'm looking for a rustic, weathered look, I tried not to be too uniform.
To transfer the image, I first printed the images in reverse onto standard copy paper with a laser printer (inkjet won't work because it will bleed when it gets wet).  On the wood, I painted a thick coat of matte medium, then pressed my printout face down into the paste.  I try to work out any air bubbles, but try not to squeeze too much of the matte medium out.  The matte medium is what will hold onto the image when complete.
Once the matte medium has dried, I take it to the sink.  I run it under the faucet to wet the paper.  One the paper is sufficiently soaked, I start rubbing the back of the paper.  The paper will slowly rub away, leaving the image.  If the image looks cloudy after it dries, that means there's more paper pulp to rub away.  It usually takes me several sessions to get it all.
Once completed, I topcoated everything with a clear acrylic spray.
Here's a good video showing the transfer method using matte medium.
Join Our Newsletter
Get awesome stuff just like this delivered straight to your inbox!  Join our newsletter for updates on new videos and projects.
Thanks for being awesome!