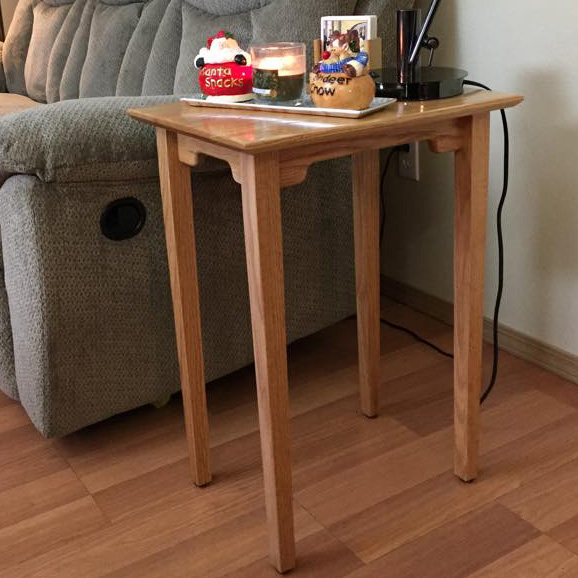 When I moved into my house, the previous owner left some scrap oak in the garage.  I held onto it for quite a while, not knowing what I was going to make.  Eventually, a project came up.  I needed a side table next to my sofa.
I wanted a simple table with shaker style legs.  I liked the cloud lift that's popular in Greene & Green Furniture, so I'd mimic that in the aprons.  The table top would be solid wood with a 45 degree chamfer on the bottom to give it a visual lightness.
I had some folding TV trays that seemed to be just the right size.  So I took the dimensions from that.  I had enough wood to glue up the table top with enough left over for the aprons.  I went to the big box store and bought some 1×2 boards, which I glued up to create the table legs.  I tapered the legs at the table saw.
Unfortunately, the aprons aren't wide enough to accommodate the cloud lift design, so I only did 1 level.  It looks nice, but certainly not reminiscent of Greene & Greene.  I used the scroll saw to cut those out and a spindle sander to finesse the curve.  I also used a round over bit on the aprons.  To attach everything, I used pocket screws.  To attach the top, I used figure 8 table top fasteners I ordered online.  I finished everything with a polycrylic.
It was a simple project, but I really liked how it turned out.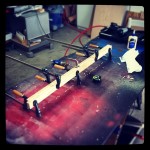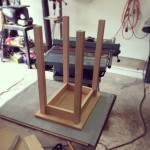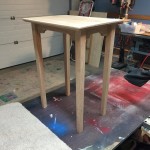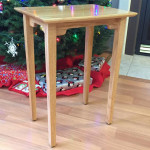 Join Our Newsletter
Get awesome stuff just like this delivered straight to your inbox!  Join our newsletter for updates on new videos and projects.
Thanks for being awesome!