My wife and I are tea drinkers.  We're not obsessive about tea.  But we do enjoy 3-4 cups of tea each week.  Instead of keeping bags of our favorite tea in an ugly cardboard box, I made this tea caddy.  I used a cedar fence board.
I cut all of the pieces at the table saw.  The curves I cut on the scroll saw.  I sanded the face and edges with 80 grit sandpaper.  I didn't want them completely smooth, since I still like the rough saw marks.  I painted the whole thing with blue craft paint and set it aside to dry.  On the scroll saw, I cut out the word "tea" from 1/4" birch plywood.  I purposely didn't cut out the holes in the "e" and "a" because I liked the way it looked.  Once the paint was dry, I sanded all of the pieces again to strip away some of the paint to leave a nice weathered look.  I glued and brad-nailed all of the pieces together.  Once the glue was dry, I coated the entire piece with walnut colored stain.  This darkened up the raw wood and the paint.  It really made it look old and weathered, which is the goal.  Once the stain dried, I glued the "tea" cutout into place.  Then I coated everything with a furniture wax for a subtle sheen and smooth feel.
I really like the way it turned out.  Now we can enjoy a cup of tea in style.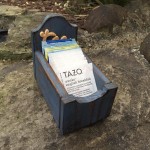 Join Our Newsletter
Get awesome stuff just like this delivered straight to your inbox!  Join our newsletter for updates on new videos and projects.
Thanks for being awesome!