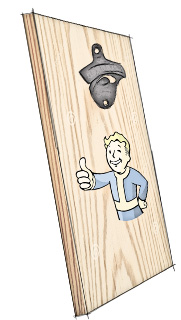 Here is a fun project.  A buddy of mine really likes the Fallout game.  So I thought I'd make a Fallout themed bottle opener with cap catcher.  I decided I'd do a Vault Boy image on the bottle opener and distress it so it looks like it made it through the apocalypse.
I used a standard cedar fence board for my material.  I cut it to 12" long and dog-eared the top.  I sanded down some of the rough surface, leaving behind a little bit of the rough sawn lumber.  I wanted it to still have that weathered/textured look.  I put it on my CNC and carved out the Vault Boy logo.  Since I was making these live on my stream, someone suggested I do a Nuka Cola logo as well, which I thought was a brilliant idea.  So I put that into my CNC and carved a few of those out as well.
I drilled a hole in the back of the board to recess a rare earth magnet.  It won't be seen from the front, but the magnet is strong enough to catch the falling bottle cap through the wood and stick it to the board.  Very cool!  I plugged the hole with some cedar plugs I made with the CNC.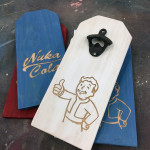 I painted the surface with craft paints.  Then with my sander, I sanded away a bit.  This left a nice weathered paint look.  For Vault Boy, I laid down a layer of white paint as a base.  Once dry, I followed up with the colors.  Once all of that was dry, I used some sandpaper to scuff up the nicely painted surface to age it up a bit.  The Nuka Cola logos, I painted the recesses.
I spread a walnut stain over the entire surface and wiped away anything that didn't soak in.  This really darkened the craft paint and aged the wood 30 years.  I used an old brush to pool in the stain into the recesses of Vault Boy, which made the awesome outline come to life.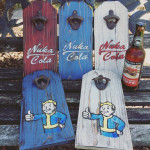 I let the stain dry for a few days, then I came back over it with a furniture wax.  It gave it a nice satin sheen and made the wood nice to the touch.  Then I screwed in the bottle opener hardware and I was done!
In the end, I made 2 Vault Boy and 3 Nuka Cola bottle openers.  I really liked the way they turned out and my buddy was thrilled.
I made these on my Live Stream.  Every Sunday at 1pm, PST, I stream live from my shop.  Stop in and check it out and hang out with me.  Recordings of my live stream are available for 2 weeks if you missed the show.
Join Our Newsletter
Get awesome stuff just like this delivered straight to your inbox!  Join our newsletter for updates on new videos and projects.
Thanks for being awesome!