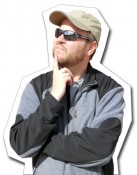 My name is Travis, and I like to make stuff.  What exactly?  Pretty much whatever amuses me at the moment. I love discovering new techniques and materials to work with.  While some may call me a "jack of all trades; a master of none," I prefer thinking of myself as "an artist in search of a medium."
I enjoy woodworking, paper crafting, art, DIY, homebrewing, computers, blogging, web designing, video games, most things geeky, writing, camping,  and whatever else strikes my fancy for the time being.
This is my blog about the stuff  I make; stuff that makes me smile.