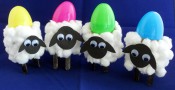 I came across this cardboard tube lamb tutorial on Crafts By Amanda.  I thought it was really cute (that's right…I said it…cute).  I figured this would be great project for my son and I to do, especially with Easter coming up.  Be sure to check out her tutorial.  She has included a video tutorial as well.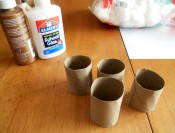 First, I gathered my supplies:
Toilet paper tubes cut about 3″ tall.
Glue
Cotton Balls
Scissors
Googly Eyes
Black cardstock
Popsicle Sticks
Black marker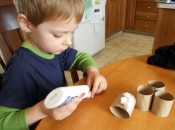 I would cut each cotton ball in quarters, then roll them between my fingers to make a ball.  Eventually, I found that pulling the cotton ball apart is easier than cutting it into quarters.  My son would then glue them to the cardboard tube.  We quickly figured out that gluing each one would take forever and be very messy.  So, instead, I spread the glue over a section of cardboard, then he can press the cotton balls into place.  That really sped up the process.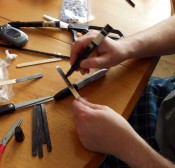 While he glued on the cotton balls, I colored some Popsicle sticks black, then broke them in half.  These will make up the sheep's legs.  Amanda's tutorial uses pipe cleaners.  I went this route just because it was easier.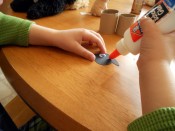 I used the Cricut to cut out the sheep's head out of black cardstock.  You could easily cut these out with scissors instead.  I've attached the Inkscape pattern for you Cricut/SCAL users out there.  For the rest of you, I've included a JPG template you can just print.  You can find the files at the end of this post.  Here he is gluing on googlie eyes.  Lets face it, everything is better with googly eyes.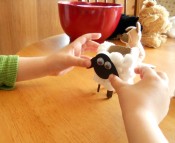 Once the glue dried on the eyes and cotton balls, I used a hot-glue gun to attach the feet.  It would have taken too long (and a bit tricky) to clamp into place for the regular PVA glue to dry.  This was much easier.  Then, with a little glue on the back, he can press the face into place.  Voilà, an Easter Lamb.  He made 4 of them, one for me, one for mom, one for himself, and one for the cat…because cats like Easter too.