This time around, I wanted to do an American Wheat beer.  Something that will compliment the hot summer days.  My friend was placing an order at Northern Brewer, so I thought I'd tack on the order and split the shipping.  I ended up getting their American Wheat Beer based on the reviews.  Boy, I'm sure glad I did.  This beer is amazing!
When I put the recipe into Beer Tools, it pretty much hit the mark on everything but color.  The beer would be super light.  I toyed with the idea of darkening it with some crystal, but in the end I decided to go with what they had.  The result is this super pale yellowish color.  A color no beer should be, but somehow facinating.  But the taste was incredible.  After sharing it with some friends, we all laughed at the color and finally came up with the name of Dishwater Wheat because of the way it looked.
I must admit, the brew day was pretty  much a disaster.  I went with a Brew In A Bag (BIAB) mash.  I got the temp right where my software told me to put it to, and stirred in my grain.  But the temperature dropped much lower than expected.  But I covered it anyway with blankets and monitored the temps.  Over the first 15-20 minutes, the temp dropped by 7 degrees.  Frustrated, I put it back on the burner and got it way too hot.  I left off the lid for a while to get the temp back down.  All in all, the 60 minute mash went too cool, then too hot, then too cool again.  I was saying many bad words.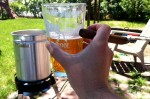 After the mash, everything finally went according to plan.  The boil, cooling, and pitching all went without a hitch.  I was even able to enjoy a beer and a cigar while I was boiling my wort.
In hindsight, I don't think I should have kept the burner/mashing outside.  There was a good breeze which can take away much more heat.  I didn't cover it as well as I should while it was resting.  I also left the pot on the burner while covered.  I also figured you need to make sure you stir and keep the lid off the closer you get to strike temperature, since the area you're measuring could be a much different temperature than the rest of the water.
I'm not sure if I'll be able to reproduce this amazing beer, but I sure will try.  I'm already running low and the thought of running out keeps me up at night.

Dishwater Wheat #7
Style:  6-D American Wheat or Rye Beer
Type:
  All Grain – Brew In A Bag
Batch:
# 7
Size:
5.0 gal
Calories:
145.21 kcal per 12.0 fl oz
Original Gravity: 1.044 (1.040 – 1.055)
|============#===================|
Terminal Gravity: 1.011 (1.008 – 1.013)
|=================#==============|
Color: 1.44 (3.0 – 6.0)
|================================|
Alcohol: 4.29% (4.0% – 5.5%)
|===========#====================|
Bitterness: 28.6 (15.0 – 30.0)
|======================#=========|
Ingredients:
4 lb White Wheat
4 lb Standard 2-Row
1 oz Willamette (4.7%) –

added during boil, boiled 60 min

1 oz Cascade (6.1%) –

added during boil, boiled 15 min

1.0 ea Safale US-05
Schedule:
Ambient Air:

70.0 °F

Source Water:

60.0 °F

Elevation:

0.0 m

BIAB Mash

–

Liquor: 5.96 gal; Strike: 157.67 °F; Target: 152 °F

Sacch Rest

–

Rest: 60 min; Final: 152.0 °F
Notes
All Grain kit from Northern Brewer – American Wheat Beer
Brew In A Bag method with 6 gallons of water.
Mash temps were all over.  Started too low, I put some fire to it and it then got too hot.  (see introduction above).
Target OG was 1.044 but ended up being 1.050.
Very, very light and clear (for a wheat).
My favorite brew to date.  Will brew very soon (within the next couple batches)