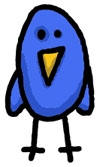 After much debate, I decided to change my twitter name from "scrollsawgoodie" to "byTravis."  When I first started, I was using Twitter as a marketing tool to promote my blog.  I started connecting with all sorts of folks; scroll sawers, woodworkers, crafters, beer brewers, web page designers, marketing specialists, etc.  So now my old name of "scrollsawgoodie" isn't as useful as it once was.  I'm not all about scroll sawing.  Don't get me wrong, I still love it.  But I do all kinds of things.  I wanted a name that wasn't so specific that it makes it hard to talk about other stuff too.  So after a bit of name checking, I settled on "byTravis."  I thought it worked well since it is my name and all.  Now I don't feel as pigeon-holed.  I think I'll be using it a lot more to talk about stuff that makes me smile.  Hopefully my followers and those I follow aren't too confused.  But worry not, my zombie avatar still remains in use.  I think most recognize me by that avatar anyway.
Join Our Newsletter
Get awesome stuff just like this delivered straight to your inbox!  Join our newsletter for updates on new videos and projects.
Thanks for being awesome!