For this brew, I wanted a nice, light beer for the hot summer days ahead. 'Course I probably jumped the gun by a month, but I was excited to brew a light session ale.
This batch will be a few firsts for me.  This will be the first time using my new turkey fryer setup to brew a full wort boil.  This will also be the first time brewing a full size Brew In A Bag (BIAB).  My previous ale (Freezer Burn Raspberry Ale) was a small batch, stove top BIAB.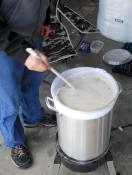 This brew went without a hitch…for the most part.  I spilled a little grain while pouring it from the plastic bag.  Next time I'll transfer it to a plastic bucket before adding it to the mash.  It will be much easier to control this way. I did have my first boil-over, though.  Kinda wished I was in the driveway instead of my garage.  But it was going to rain and I didn't want to chance it.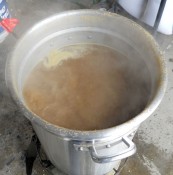 My strike water was hotter than I thought.  Next time I'll remove the cover, stir, and check temp the closer I get to my target.  So my mash was at 154°F instead of the target 150°F.  Oh well.  The Sacch rest went really well.  I covered up the pot with an old blanket and it only dropped 1 degree over the hour.
I'm thrilled with my new wort chiller.  I built it while the mash was resting.  It cooled my wort down in 15 minutes (we have cold ground water).  I wish I had built one earlier.


Lawnmower Man
Style: 6-A Cream Ale
Type:
All Grain – Brew In A Bag
Batch:
#6
Size:
5.0 gal
Calories:
140.64 kcal per 12.0 fl oz
Original Gravity: 1.042 (1.042 – 1.055)
|========#=======================|
Terminal Gravity: 1.011 (1.006 – 1.012)
|====================#===========|
Color: 7.42 (3.0 – 5.0)
|================================|
Alcohol: 4.16% (4.2% – 5.6%)
|=======#========================|
Bitterness: 15.4 (15.0 – 20.0)
|=========#======================|
Ingredients:
7 lb Standard 2-Row
.75 lb Honey Malt
.25 lb Belgian Biscuit
1.25 oz Liberty (3.3%) –

added during boil, boiled 60 min

1 ea Fermentis US-05 Safale US-05
Schedule:
00:03:00

Mash

–

Liquor: 5.72 gal; Strike: 155.37 °F; Target: 150 °F

01:03:00

Rest

–

Rest: 60 min; Final: 150.0 °F
Notes
Based on All Grain Cream Ale by Norther Brewer (Substituted 1oz of Cluster for 1.25 of Liberty)
I poured the grain from a plastic bag and spilled about 1/4-1/13c of grains on the floor.  Uggg.
My target mash temp was 150.0 °F.  Unfortunately the strike water was hotter than I expected and the final mash temp turned out to be 154°F.
Fermenting was hot for the first 12hrs (72 degrees).  I removed the heating pad and let the ambient temp of 64°F balance it out.  I shouldn't have put the heat pad on the fermentor.  Old habits from wintertime, I guess.
Spent 1 week in primary.  Racked it to 2nd on 5-8-2011.  2 weeks in 2nd.
Bottled on 5/22/2011 with 3/4c priming sugar.
Final gravity was 1.014 (target was 1.011) which marks at 3.66% ABV.  This is actually good because I wanted lower alcohol.  Not sure why I missed my mark, though.  Probably due to a higher mashing temp creating more unfermentables.  I tried changing mash temp in Beer Tools, but it didn't alter my expected gravity.
Tasted the beer when bottling.  It tasted amazing.  Can't wait to try it cold and carbonated.  😀
Join Our Newsletter
Get awesome stuff just like this delivered straight to your inbox!  Join our newsletter for updates on new videos and projects.
Thanks for being awesome!