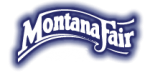 I heard this nasty rumor that Montana Fair has a beer competition.  Naturally, I had to look it up.  This was the first time I've entered anything at my local fair, so I was pretty excited.  I checked the entry deadlines for entering my beers.  Fortunately, the day I looked it up was the only day I had to enter.  So I scrambled to put together my entry forms.  On my lunch hour, I raced home and grabbed my beer and headed to the fairgrounds.  The check-in process was a bit lenghty.  Not because of lines, but mostly because was confusion on how to register beer for the competition.  The fair competitions is mostly preserved foods, pies, and bread.  I can't give them too much grief, though.  These were mostly retired volunteers.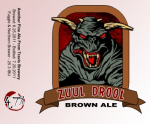 I entered 3 beer total;  Lawnmower Man Cream Ale, Dishwater American Wheat, and Zuul Drool Brown Ale.  They also had a beer label competition.  So I reformatted my Zuul Drool label to fit on a larger 3×4″ label (I normally use 1×2.5″ labels).
I didn't have high hopes for these beers.  None of them are great examples of their styles.  Zuul Drool wasn't as good as my first brown ale, so I"m kinda so-so on that.  My Dishwater Wheat is awesome, but the color is too light (on purpose).  The Lawnmower Man had a lot more unusual ingredients (biscuit malt and honey malt specifically) which made it darker and a bit fuller of a flavor than a traditional cream ale.  But I thought it would be fun to enter them anyway.
I took my family to the fair for some rides, games, and exhibit browsing.  Naturally, I had to check in on my beers to see how they did.  My American Wheat got a red ribbon (2nd place). My Brown Ale got a red ribbon (3nd place).  The Cream Ale got a white ribbon (3rd place).  And   Finally, my Zuul Drool beer label got a red ribbon (2nd place).
While I'm pleased with the results, the ribbons are the least of my interest.  What I'm really interested is in the comments and feedback I get back from these beers.  These beers were graded on AHA standards (although I'm not sure if this was an official AHA competition).  I'm really anxious to see the feedback from the judges who have a much better palette than I do.
I'll update this post when I get my results back.
I'm already looking forward to next year's fair.  Not only will I enter beers specifically for the beer competition, but I'll also enter  other projects.  I have plenty of scroll saw and woodturning projects.  Heck, I might even enter some photography or paintings.  It's not so much the competition that excites me, but the audience I have access too.  That's pretty cool.
Join Our Newsletter
Get awesome stuff just like this delivered straight to your inbox!  Join our newsletter for updates on new videos and projects.
Thanks for being awesome!