My first batch of Zuul Drool was awesome, so I wanted to brew up another batch.  As I mentioned in my last brew post, I tacked onto an order from Norther Brewer.  So I decided I'd grab their Nut Brown Ale kit.  Even thought this is a different recipe from my original Zuul Drool, the name is too good to set aside.  So I'm calling this one Zuul Drool as well.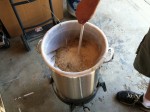 This is another batch using the Brew In A Bag (BIAB) method.  I learned from my last batch not to do it outside where there is any kind of breeze because the temperature drops too much during the mash.  So this time, I moved it to the front of my garage.  This blocked me from any wind, but the open overhead door still allowed me fresh air and view of my yard.
I also decided I'd mash with only 3 gallons of water in my BIAB instead of the full volume of 6 gallons.  Last brew, the pot was much too full and was close to spilling.  I figured if nothing else, a thicker mash would work better anyway since typical all grain brewing has a very thick mash (compared to BIAB).  It made managing the ingredients much better, and moving the pot for insulation much easier.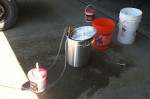 The brew day really went without a hitch.  My mash only dropped a couple degrees over the entire 60 minutes.  The brew went smoothly.  I must be getting comfortable with my process, because this brew day went without any drama.  I was able to smoke my pipe, drink my beer, brew some beer, and watch the world go by.  You can't ask for much better.
Zuul Drool #8
Style:
11-C Northern English Brown Ale
Type:
All Grain – Brew In A Bag
Batch:
#8
Size:
5.0 gal
Calories:
150.87 kcal per 12.0 fl oz  
Original Gravity: 1.045 (1.040 – 1.052)
|===============#================|
Terminal Gravity: 1.011 (1.008 – 1.014)
|================#===============|
Color: 19.42 (12.0 – 22.0)
|===================#============|
Alcohol: 4.46% (4.2% – 5.4%)
|===========#====================|
Bitterness: 25.3 (20.0 – 30.0)
|================#===============|
Ingredients:
7.5 lb Maris Otter
.25 lb Chocolate Malt
.25 lb Belgian Special B
.25 lb Belgian Biscuit
.25 lb Special Roast Malt
.25 oz Northern Brewer (8.0%) – added during boil, boiled 60 min
1 oz Fuggle (4.8%) – added during boil, boiled 60 min
0.5 ea Whirlfloc Tablets (Irish moss) – added during boil, boiled 10 min
1 ea Danstar Nottingham
Schedule:
Mash (BIAB)

–

Liquor: 4.0 gal; Strike: 162.56 °F; Target: 154 °F

Rest

–

Rest: 60 min; Final: 154.0 °F
Notes
BIAB
Northern Brewer All Grain Kit – Nut Brown Ale
Added an additional .25 oz of Northern Brewer to the kit to bring the bittering up into range.
Target mash at 154° F – Actual 153° F
2 weeks primary – 1.5 weeks secondary
3/4c priming sugar for bottling
Join Our Newsletter
Get awesome stuff just like this delivered straight to your inbox!  Join our newsletter for updates on new videos and projects.
Thanks for being awesome!